It's time to take your place in the
EFBA CIRCLE
Because I believe in us
And we need each other
What I know is that most of us don't need more information.
We need Community.
We need Safety.
We need a place to Rest.
We need Loving Encouragement to do the important things.
We need a Structure that keeps us up out of the weeds.
We need Reminders to stay on course.
We need Comfort when we fall flat.
We need Encouragement to get back up again.
We need the Juice that gets us fired up and joyful.
We need Space carved out to look at the big picture.
We need people who aren't afraid of our light and will believe in us even when we can't believe in our ourselves.
We need the
EFBA CIRCLE
This is a different way of working together than anything I've ever done before.
Less teaching, more showing.
Less information, more accountability.
Less theory, more of what I'm doing in real time.
Less finished product, more figuring it out together.
What you can expect from me
An unprecedented level of transparency around my own process

I'll share my actual monthly goals & truth updates, just like you will

New pieces of intimate writing for your eyes only that no one has ever seen before (and won't go out to my email list)

A weekly snapshot of my actual compass so you can see what it looks like to make progress imperfectly but persistently even when life is busy AF

A clear structure to follow

My loving, compassionate, fierce and irreverent cheerleading, coaching, and occasional gentle ass-kicking when helpful
What you can expect from yourself
To lay out your year with intention, badassery, and faith …and oh by the way, you'll do this before the holidays so you are seriously ahead of the game on Jan 1st





To focus on the things that really matter instead of splattering your energies





To set monthly priorities and share them (in code, or not)





To track your progress and report back each month





To tweak your vision and flow with your real, inevitably messy life





To nevertheless make steady, persistent progress that will make you so proud you'll cry





To be a compassionate witness to the other women in the circle




To dream up your next EFBA chapter for yourself





To try new things, build new habits, and have more fun (that's an order!)





To honor the good and the hard, cherish the rich moments of your days and weeks, and celebrate beauty as you make it all offing gorgeous





To step into a new level of your own power, strength, and brilliance





To have a rich record of everything you do, accomplish, savor, and delight in this year
How we do it
A secret Facebook group
Live open coaching calls with moi
DO EFBA SHIT intensives (like a Deep Sweep but you'll work on your big+important+scary+creative+next-level projects)
We'll do 12 of these live events throughout the year, generally during the day on Wednesdays and Thursdays
A daily email droplet to keep you fired up every day, all year long
A special journal to walk you through your year
A library of digital resources to make you stronger (the EFBA Toolkit)
With laughter, dance parties, vent timers, gold stars, tattoos, witchy rituals, and book recommendations
This course is closed for enrollment.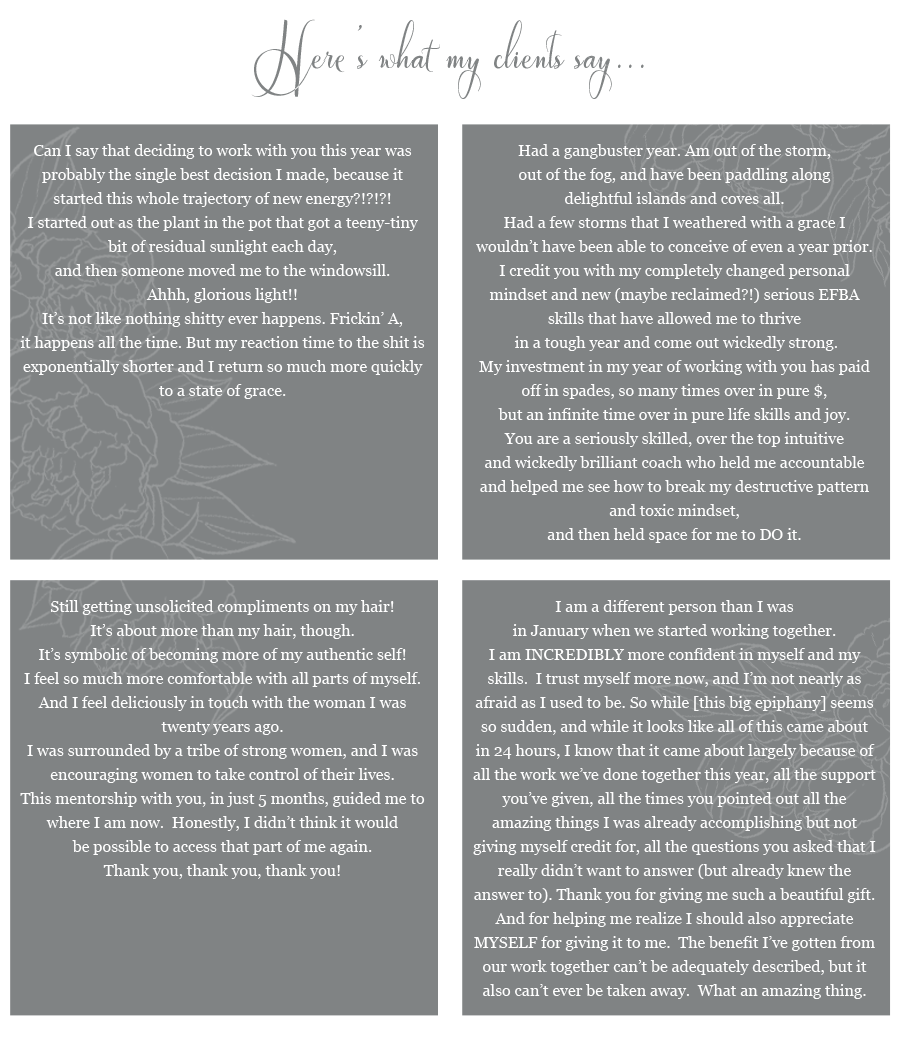 This is the cocoon where you grow your wings.
The safe space where you get really brave.
The secret cave where your light grows so bright…it'll light up the world.
Questions?
Email me personally at [email protected].