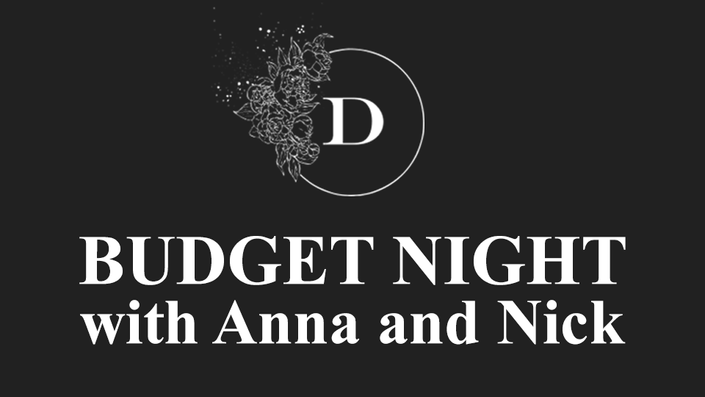 Budget Night With Anna & Nick
How to have a big, happy life on a reasonable budget.
We'll give you an intimate glimpse into how we talk about money, make decisions about our budget, and manage our household finances.

What if talking about money with your honey was:
intimate?
full of laughs?
even... SEXY?
SEE HOW WE NEGOTIATE
ACTUAL NUMBERS,
COMPETING NEEDS,
AND TENDER FEELINGS.
Declare Dominion over your money...TOGETHER.
In this class, you'll learn . . .
---
1 | How we buy groceries for 7 people
2 | How we talk about $$$ without killing each other
3 | Why Christmas & summer camps don't break the bank anymore
4 | The secret to NOT resenting each other for expensive jeans & fancy watch chargers
5 | How we handle my money, your money, and our money
6 | Why we make some surprisingly unconventional choices
7 | Where we splurge and where we're cheap
8 | How we handle wildly variable income in our business
9 | What to do if your spouse is terrible with money
Heyyyy!!!

We're Anna Kunnecke and Nick McArthur.

Together we have five kids, a dog, two snakes, and a minivan.

Life is over-the-top chaotic sometimes, but it's also full of joy and hilarity.

We're going to pull back the curtain and show you our ACTUAL budget, because we think more truth, more transparency, and more authenticity is SO helpful to other couples who are trying to figure this stuff out.

We wish someone had showed us how to do this years ago-- it would have saved us thousands of dollars and lots of angst!!!

Frequently Asked Questions
How does the course work?
We recorded this video class live – once you enroll, you'll be watching the replay. We'll talk candidly about our household finances as well as show you our ACTUAL budget spreadsheet. We'll also give you a powerful tool you can take away and use again and again – a worksheet that will help you get ON TOP of your money instead of just putting out fires. If you put this worksheet to work, it'll quickly be worth more than TEN TIMES the class investment. (No joke.)
How long do I have access to the course?
You will have unlimited access to the course for at least 30 days. After that it's all a surprise - 6 days, 6 months or 6 years.
But why do I want to watch you budget?
Because there's nothing more powerful than watching how other people navigate a task that can seemingly steal your soul and will to live. We'll show you just how empowering it can be to declare dominion over this part of your life – TOGETHER.
Is this course just for couples?
No way!! We were both single parents before we joined forces, and this information would have been invaluable. While we will share strategies that let us work TOGETHER on our money, the tools and concepts will also be incredibly helpful if you're handling your $$$ on your own!